For my MSc thesis I developed an algorithm for up-mixing stereophonic audio to an Ambisonic format. The process involves performing a blind source separation operation on the audio using multilevel thresholding. An estimate of the azimuth of each extracted audio source is then used to place the source into an ambisonic sound field.
A recording of a presentation I did on this work can be viewed here.
Originally, the algorithm was developed using MatLab but I have recently ported this process to C++ and built VST/AU plugins via the JUCE framework. I've also added a reverb extraction operation prior to the source extraction.
A big thank you to my sister Hazel for providing GUI images. Check out her portfolio here: https://cardewdesign.wordpress.com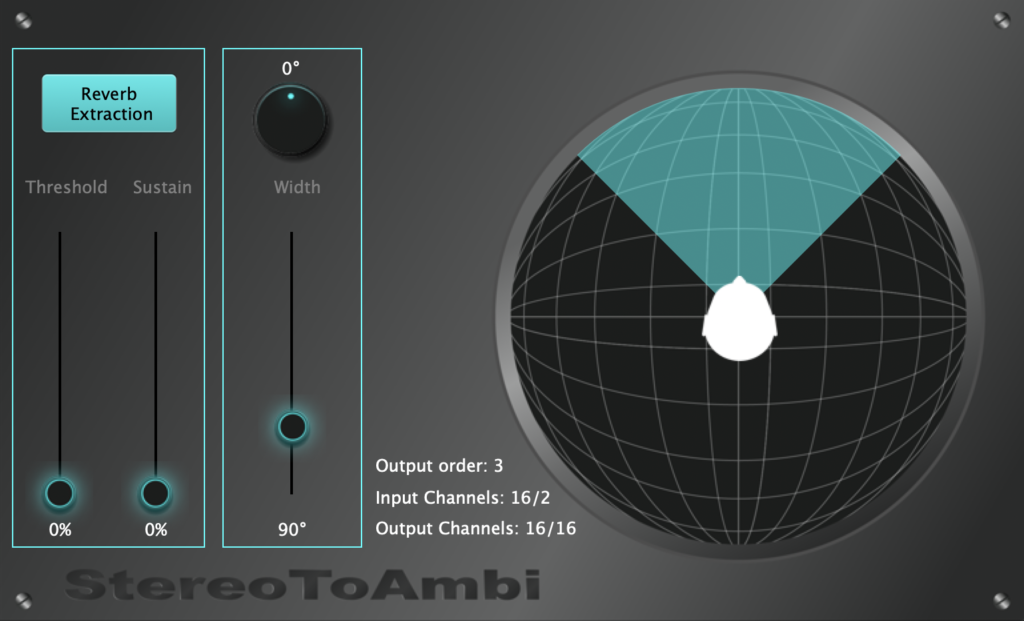 I've added built versions of this plugin to this page for download. (Note: If the link won't download automatically then right click and press 'Save Link As…')
Windows: StereoToAmbi-Windows-v0.3.zip (416 downloads) (64-bit)
Mac: StereoToAmbi-MacOS-v0.3.zip (323 downloads) (MacOS 10.9+, Universal Binary)
You can also click here to go to the source code.
If you are downloading and using this plugin please leave some feedback! (I'm also interested to know what projects people are using it for!)